The Message Transfer Part Level 3 (MTP3) portable software product provides the functions and procedures to transfer SS7 signaling messages and to manage the signaling network.
Trillium MTP3 software enables telecom equipment manufacturers of soft switches, signaling gateways, signal transfer points, service control points, media gateway controllers or other products to:
Accelerate time to market
Reduce development costs
Reduce project risk of internally developed MTP3 applications
MTP3 supports the ITU-T, ANSI, Telcordia, B-ICI, ETSI, TTC (Japan), NTT (Japan) and China variants of the protocol. Product deliverables consist of C source software, documentation, training, a warranty and technical support.

Additional Specifications
Supports the Distributed Fault-Tolerant/High-Availability (DFT/HA) environment, which allows creation of, and load distribution between, multiple active/standby software images of Trillium MTP3 software. DFT/HA creates higher availability and increased scalability by providing load sharing over multiple processors. DFT/HA supports the "Six Nines" (99.9999%) reliability requirements of carrier-grade networks.
Supports the Fault-Tolerant High-Availability (FT/HA) environment, which provides active/standby processing. The active copy takes part in event processing and updates the standby with "healthy" state changes, thereby eliminating error propagation and increasing system reliability. FT/HA supports the stringent "Six Nines" reliability requirements of carrier-grade networks.
Supports multiple originating point codes.
Supports narrowband capabilities as illustrated in Figure 1: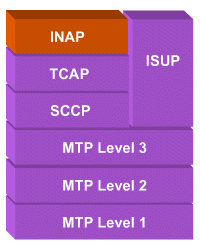 Supports broadband capabilities as illustrated in Figure 2: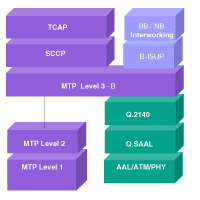 Supports operation in a Signaling Gateway by interworking with the SIGTRAN stack at the boundary of an IP network as illustrated in Figure 3: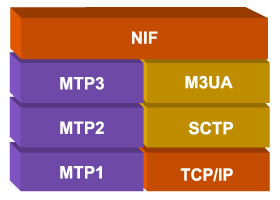 Can act as a signaling Point (SP) or signaling Transfer Point (STP).
Supports ITU, ANSI, B-ICI, ETSI, China, and TTC/NTT (Japan) point code formats.
A single instance of MTP3 supports multiple MTP3 variants (ITU, ANSI, B-ICI, ETSI, TTC/NTT (Japan), and China) simultaneously and is thus suitable for gateway applications.
Supports the message discrimination function by delivering the message to the distribution function or to the routing function depending on the destination of the message.
Supports the message distribution function by delivering the message to the appropriate user part or level 3 function based on the service indicator.
Supports the message routing function by selecting an appropriate signaling link for the transmission of messages. Additionally, performs load-sharing between links and/or link sets.
Support for route management messages with multipoint code capabilities for TTC (Japan) and NTT (Japan) variants.
Supports signaling traffic management procedures including: changeover, changeback, forced rerouting, controlled rerouting, signaling point restart, management inhibiting and signaling traffic flow control.
Supports signaling link management procedures including: signaling link activation, signaling link restoration, signaling link deactivation, link set activation (normal and emergency restart) and automatic allocation of signaling data links and signaling terminals.
Supports signaling route management procedures including: transfer prohibited, transfer allowed, transfer controlled (international and national congestion priorities), signaling route set test and signaling route set congestion test.
Supports the Rolling Upgrade feature for upgrading the MTP3 software on a live system without bringing operations down.
Can handle either national or international signaling traffic.
Supports national networks with or without multiple congestion priorities.
Supports multiple congestion priorities and prevents deadlocks and overload conditions from occurring.
Regulates data flow when the system's resource utilization reaches configurable thresholds.
Conforms to Trillium Advanced Portability Architecture (TAPA)
Benefits of licensing Trillium software from Radisys
PRODUCT INTERWORKING
Trillium MTP3 software can be integrated easily to work with other Trillium software, including:
Distributed Fault-Tolerant/High-Availability (DFT/HA) Core
Fault-Tolerant/High-Availability (FT/HA) Core
LDF – MTP3
PSF – MTP3 (FT/HA)
Q.2140
MTP2
SCCP
ISUP
TUP
AAL2 signaling
MTP3 User Adaptation Layer (M3UA)
and Multi-threaded System Services (MTSS) software products.
CONFORMANCE
Trillium MTP3 software conforms to the following standards:
ITU-T, Q.701, Q.704, Q.707 (1988, 1992, 1996), Q.752 (1997), Q.782 (1996), and Q.2210 (1995) Recommendations
Telcordia GR-246, T1.111.4, 1998.
ANSI T1.111.4 Specification, 1992 and 1996
JT Q.704 and Q.707 (TTC, Japan) Specifications, 1992
NTT Q.704 and Q.707 (NTT, Japan) Specifications
China, GF001-9001, Technical Specification of SS7 for National Telephone of China, 1991
ETSI, ETS 300 008, 1991
Sections in RFC2719 concerned with MTP3 operation in a signaling Gateway.
Refer to the MTP3 Functional Specification for detailed implementation information.