The LDF – MTP3 software adds distributed features to the Trillium Message Transfer Part Level 3 (MTP3) portable software product.
As shown in the figure below, the LDF – MTP3 software provides the means to distribute the MTP3 traffic onto multiple hardware platforms while representing a single MTP3 node, thereby increasing the node's traffic handling capacity.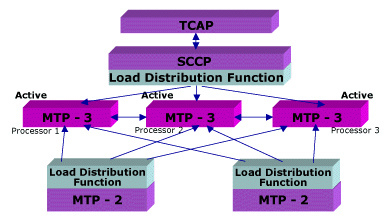 Trillium LDF – MTP3 software enables telecom equipment manufacturers of soft switches, signaling gateways, signal transfer points, service control points, media gateway controllers or other products to:
Accelerate time to market
Reduce development costs
Reduce project risk of internally developed MTP3 applications
Product deliverables consist of C source software, documentation, training, a warranty and technical support.

Additional Specifications
The signaling message traffic from the MTP3 user parts (ISUP, SCCP and so on) and the traffic from the network can be distributed onto multiple instances of MTP3 based upon the presence of the following parameters (referred to as distribution keys) in the signaling message:

Destination Point Code (DPC)
Originating Point Code (OPC)
Signaling Link Selector (SLS)
Service Indicator (SI)
Sub-Service Field (SSF)
Variant type (ITU, ANSI and so on)
Any combination of the above parameters

MTP3 routing table changes are synchronized among the multiple instances of the MTP3 handling the signaling traffic.
The distributed MTP3 can be configured to divide the traffic fairly across a set of processors or it can be configured to carry different amounts of traffic on different processors.
In case of failure of an MTP3 processor, the traffic of that processor can be handled by any other MTP3 processor with minimal losses.
Conforms to Trillium Advanced Portability Architecture (TAPA)
Benefits of licensing Trillium software from Radisys
INTERWORKING
Trillium LDF – MTP3 software can be easily integrated to work with other Trillium software, including MTP3, PSF – MTP3 (FT/HA), DFT/HA Core, Q.2140, MTP2, SCCP, ISUP, TUP, AAL2 signaling and Multi-threaded System Services (MTSS) software products.
CONFORMANCE
LDF – MTP3 software interworks with Trillium MTP3 software product to support the following MTP3 variants in a distributed environment:
ITU-T Q.701, Q.704, Q.707, Q.752, Q.782, and Q.2210 Recommendations
Telcordia GR-246, T1.111.4
ANSI T1.111.4 Specification
JT Q.704 and Q.707 (TTC, Japan) Specifications
NTT Q.704 and Q.707 (NTT, Japan) Specifications
China, GF001-9001, Technical Specification of SS7 for National Telephone of China
ETSI, ETS 300 008
In addition to TAPA, the LDF – MTP3 software conforms to:
Trillium Distributed Fault-Tolerant/High Availability (DFT/HA) Architecture
Refer to the LDF – MTP3 Functional Specification for detailed implementation information.