The Load Distribution Function (LDF) – GPRS Mobility Management/Session Management (GMM/SM) software enables Trillium GMM/SM protocol software to run in a distributed environment.
As shown in the figure below, LDF – GMM/SM software provides the means to distribute the GMM/SM traffic (both network and user traffic) onto multiple hardware platforms, thus increasing the traffic handling capacity of a subsystem.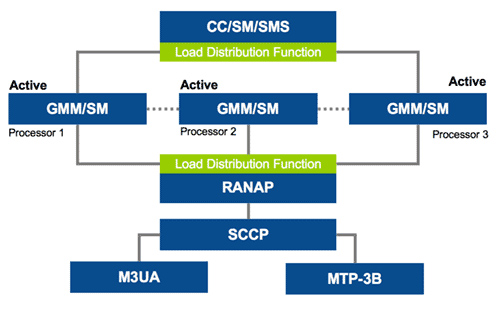 Trillium LDF – GMM/SM enables telecom equipment manufacturers of soft switches, signaling gateways, signal transfer points, service control points, media gateway controllers or other products to:
Accelerate time to market
Reduce development costs
Reduce project risk of internally developed GMM/SM applications
Product deliverables consist of C source software, documentation, training, a warranty and technical support.

Additional Specifications
The signaling message traffic from the GMM/SM users (Application functions like Call Control, Session Management, Short Messaging Services, and so on) can be distributed based on the subsystem number and the variant of that GMM/SM user.
The traffic from the network for a particular variant and subsystem (user) can be distributed onto multiple instances of GMM/SM based upon the presence of the following parameters (referred to as optional distribution keys) in the signaling message:- Destination address (point code and subsystem number)
- Ranges of transaction IDs
LDF – GMM/SM can be configured to divide traffic fairly across a set of processors or it can be configured to carry different amounts of traffic on different processors.
LDF – GMM/SM can be configured to route traffic to the service user and provider on the same processor to avoid cross-traffic.
In case of failure of a GMM/SM processor, the traffic of that processor can be handled by any other GMM/SM processor with minimal losses.
Support for customer supplied distribution functions (if required) and flexibility of user choice for distribution keys and distribution mechanisms.
LDF – GMM/SM supports all the specifications currently supported by Trillium GMM/SM software.
Conforms to Trillium Advanced Portability Architecture (TAPA)
Benefits of licensing Trillium software from Radisys
PRODUCT INTERWORKING
Trillium LDF – GMM/SM software interworks with Trillium GMM/SM, PSF – GMM/SM (FT/HA), RANAP, and Distributed FT/HA Core software products.
CONFORMANCE
Trillium LDF – GMM/SM software conforms to the following standards:
Trillium Advanced Portability Architecture (TAPA)
Trillium Distributed Fault-Tolerant (DFT/HA) Architecture
Refer to the LDF – GMM/SM Functional Specification for detailed implementation information.