Contact Us
We are ready to help!
Radisys' DCEngine™ integrates Intel® architecture–based servers with open source software to benefit hyperscale data centers.
The market for cloud infrastructure services has exploded. As a result, communications service providers (CommSPs) are leveraging technologies proven by leading cloud providers to build flexible networks that can support this rapid growth. CommSPs that rely on traditional infrastructure are embracing the same software-centric architectures and service delivery concepts, proven by cloud providers, by using software defined networking (SDN) and network functions virtualization (NFV) architectures.
This paper explores the challenges in deploying SDN-enabled NFV, how the Radisys DCEngine™ hardware and software architecture overcomes these challenges, and benefits of Intel® architecture in this comprehensive solution offering.
Register to get "Whitepaper: Radisys and Intel Deliver Agile and Flexible Rack-Scale NFV Infrastructure for Communications Service Providers".
Please submit the form on the right.
We respect your privacy and will NOT sell your data.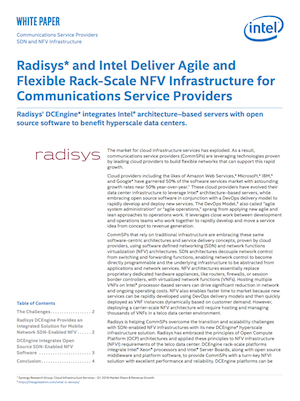 TOLL FREE
+1.800.950.0044