Contact Us
We are ready to help!
DCEngine™ Integrated Rack – Hyperscale Infrastructure for Communication Service Providers
The new DCEngine framework transforms service provider central offices into SDN-enabled virtualized data centers. DCEngine provides a multi-rack level network functions virtualization (NFVi) and container based infrastructure for hosting thousands of virtualized network functions (VNFs) and applications under open software-defined networking (SDN) control. Service providers use DCEngine to provide pools of compute and storage resources that they can quickly scale to meet their evolving service requirements while improving agility in their service delivery.
DCEngine utilizes the principles of highly efficient open compute platform (OCP) architectures and integrates fully supported open source software. Radisys designed flexibility into DCEngine to address telco central office demands for seismic, power, emissions and NEBS, which are above and beyond the traditional data center requirements.
Register to get "Datasheet: DCEngine Integrated Rack".
Please submit the form on the right.
We respect your privacy and will NOT sell your data.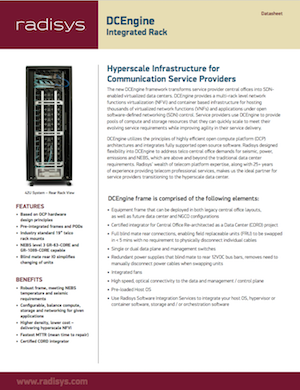 TOLL FREE
+1.800.950.0044