Contact Us
We are ready to help!
The Radisys CellEngine™ Femtotality small cell software, RRM, SON, REM and OA&M is built on the foundation of Radisys' market-leading Trillium 3G/HSPA+ small cell protocol software and applications. The Femtotality solution is a proven telco-grade solution and is delivered as a structured and portable software product. Radisys CellEngine Femtotality is interoperable with the market's leading femtocell gateways and is integrated with our market-leading silicon vendor partners. Backed by a world-class Professional Services team, Radisys will support your purchase from trials to full deployment.
Register to get "Datasheet: CellEngine™ Femtotality – Small Cell Protocol Software for 3G/HSPA+ Networks".
Please submit the form on the right.
We respect your privacy and will NOT sell your data.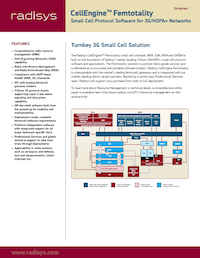 TOLL FREE
+1.800.950.0044